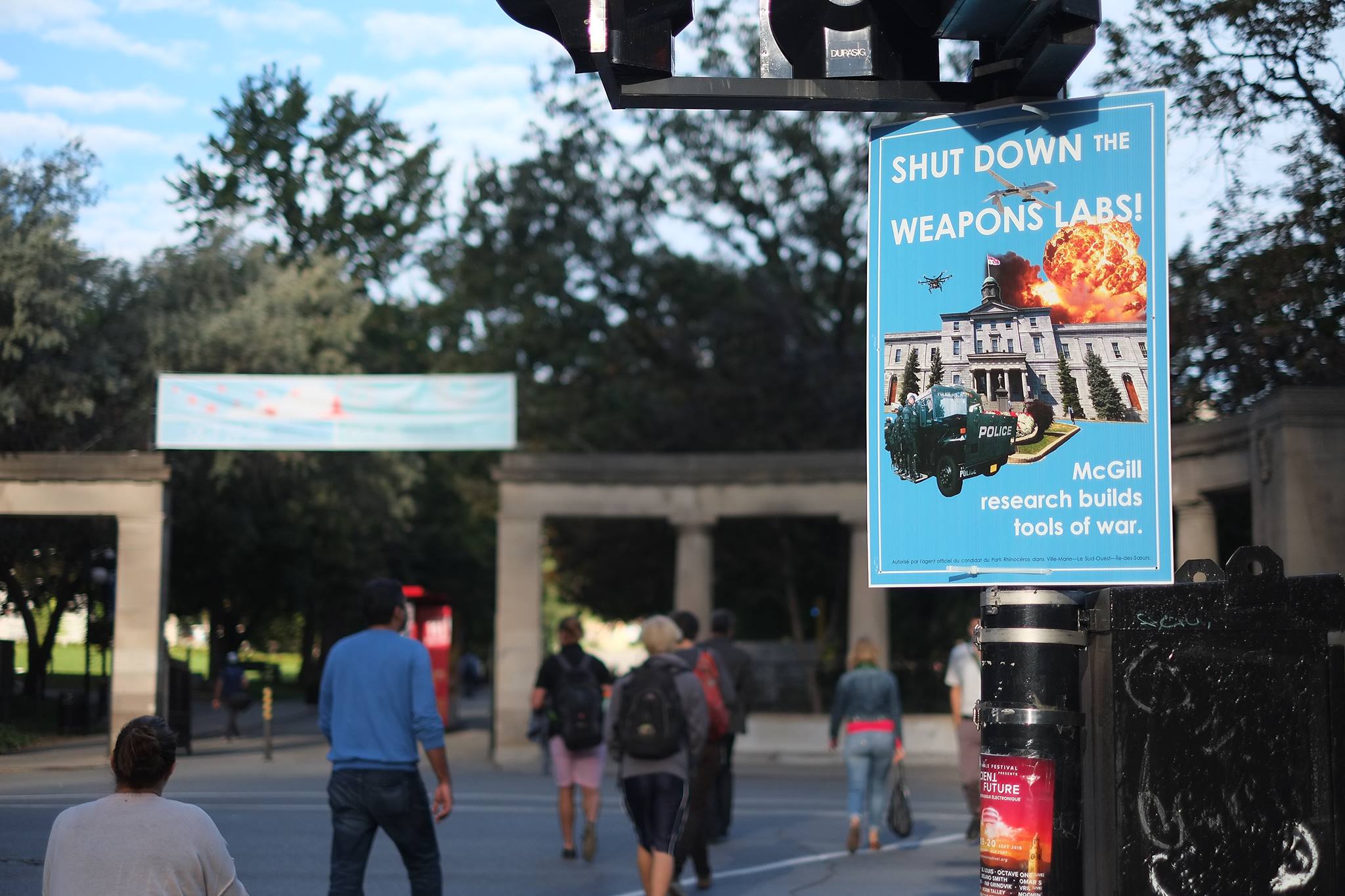 PEACE AND DISARMAMENT
In 1984, the McGill Daily discovered that researchers at McGill were developing fuel-air explosives. Since then, students have been mobilizing to eliminate military research at McGill and to battle for ethical research standards to be set. SSMU advocates for a timely and equitable transition away from harmful military technology and towards transparent and ethical research on campus anchored in justice-focused peace activism as defined in our Policy on Harmful Military Technology. McGill University has a long history of involvement in the military-industrial complex which disproportionately impacts Black people, Indigenous Peoples, and People of Colour (BIPOC) in the Global South and Global North, and women and non-binary people, especially who live in the Global South. In addition, they are a major contributor to the climate crisis. At McGill, Students for Peace and Disarmament (peace club) does most of this advocacy work. The External Affairs office also supports this campaign by doing research on the matter. Please reach out to the Policy and Mobilization Researcher to learn more.
---
Want to Get Involved?
Policy and Mobilization Researcher
Email: polmobresearcher@ssmu.ca
Students for Peace and Disarmament
Website: https://peaceanddisarmamentmcgill.wordpress.com/ 
Email: students.peace.disarmament@gmail.com 
Facebook: @mcgillpeaceclub

Want to learn more about the history of the campaign?
Demilitarize McGill
Website: https://demilitarizemcgill.com/en/
Email: demilitarizemcgill@riseup.net
Facebook: Demilitarize McGill
Twitter: @DemilMcGill